The ENERBIRD EMS energy management system is the result of several years of research and development. It uses the most advanced techniques for optimisation, modelling and control to guarantee the optimal management of hybrid power stations (photovoltaic or wind power with storage, photovoltaic–gensets hybridising, etc.). Before installation on the site, the solution is tested on a customised test bench to validate and test the energy management strategies specific to the project.
The ENERBIRD EMS software solution is a two-level architecture: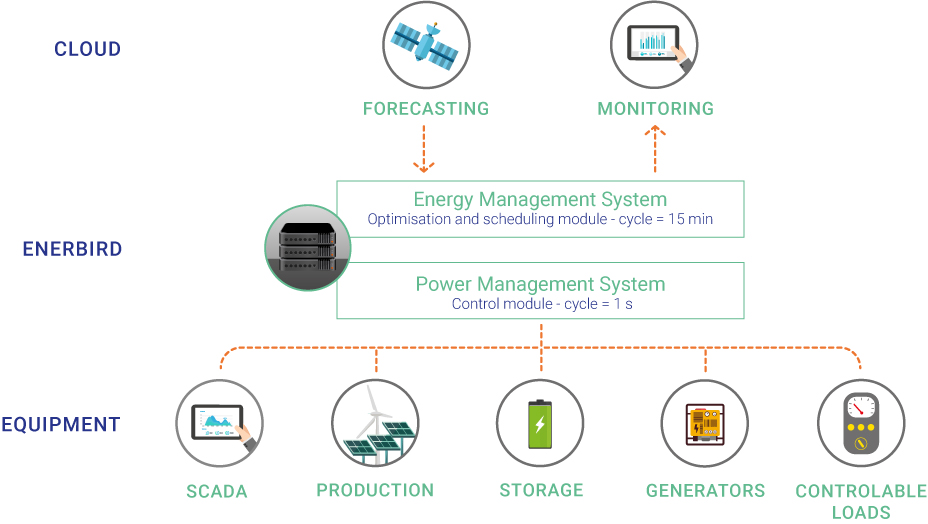 A scheduling and optimisation module defines optimal production schedules based on predictive data (production forecasts, load forecasts, equipment availability schedule). These strategies are optimised with respect to revenues generated or updated cost of energy, as well as to equipment wear and tear.
A real-time control module applies the strategy defined by the scheduling module and reacts appropriately to unforeseen events.
Scheduling and optimisation module
It is based on the principle of predictive command using a model called Model Predictive Control (MPC). The MPC uses the model to predict behaviour of the system and to make the best decision in terms of a certain cost while taking restrictions into account.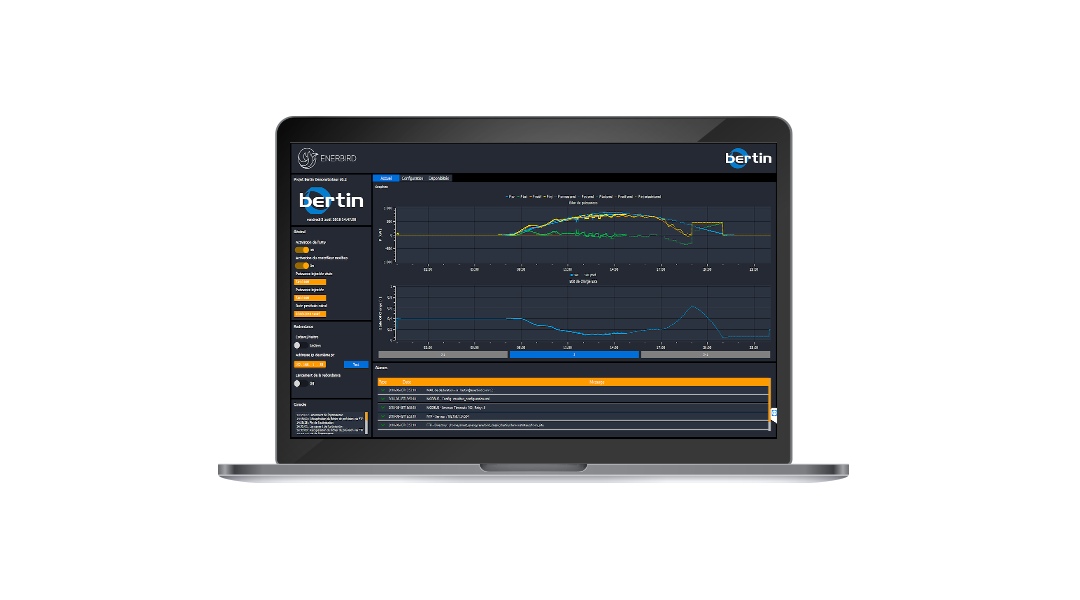 The ENERBIRD EMS management system is integrated on-site via a robust and proven IS architecture of two industrial PCs with active redundancy. Implementation guarantees:
Reliability if internet connection is lost
The local energy management system interface is accessible on site or remotely to ensure optimal monitoring of system operation.
A configured, on-board ENERBIRD EMS system (two industrial PCs with active redundancy).
The ENERBIRD EMS solution customised for the project (scheduling and optimisation module, real-time control module, communication interface, GUI) and installed on each PC.
An acceptance report on the operation of energy management strategies on the simulator dedicated to the project.
An acceptance report on communication with equipment of the installation.
A final on-site acceptance report of the EMS.